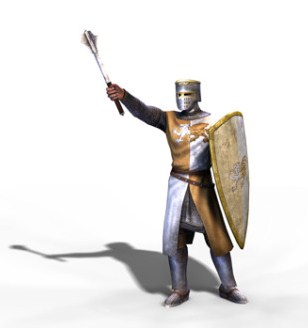 The Coat of Plates is the second armor of the Knight and is unlocked by defeating your own warrior in arcade mode. Despite being twice as fast as the Knights Maximilian armor it still manages to be slower than any other armor in the game. That aside however it still provides full protection against slashing damage and high protection against piercing and crushing damage so you do gain a little extra speed without a considerable drop in protection.
Protection
Slashing Resistance
I I I I I I I I I I I I
Piercing Resistance
I I I I I I I I
Bashing Resistance
I I I I I I I I
Speed
I I
In-Game Info
Edit
A heavy cloth jacket had bands of steel sewn inside (hence, coat of plates), and was worn over chainmail. Popular during the mid-1300's, the idea of using plates for protection led to later plate armors.