Lamellar is the second armor of the Viking and is unlocked by defeating your own warrior in arcade mode. It has good speed and also provides max protecection against slashing damage it has almost no protection against either piercing or crushing damage making it weak against any long-range and most mid-ranged weapons as well as any close-range weapons with crushing damage like the Mace or the Champions shield bashing attacks.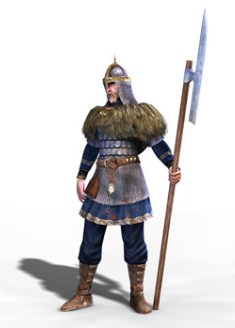 Protection
Slashing Resistance
I I I I I I I I I I I I
Piercing Resistance
I I I I
Bashing Resistance
I I I I
Speed
I I I I I
Historically their has only been 1 found of Lammellar armour found in Birka, Sweden. Birka is belived to have a forign barracks, also birkia was a trading center.